About ICCI
Jewish students, faculty, and staff are facing an increasingly challenging climate on college and university campuses today, and antisemitism in the United States is rising at an alarming rate. AEN's Improving the Campus Climate Initiative (ICCI) seeks to equip college and university administrators with the knowledge, skills, and resources to create a more positive environment for the campus Jewish community. Through education, training, and professional development, ICCI engages senior and mid-level administrators in student affairs, diversity, equity, and inclusion, and related offices to increase their awareness about the multifaceted nature of contemporary antisemitism and best practices for responding to antisemitism on campus.
The following menu of offerings is available to campuses through ICCI:
Campus climate assessment and mapping
Consultation on best practices and action plan development
Introductory training on Jewish identity and antisemitism on campus
Skills building training on reactive and proactive strategies to address antisemitism
Signature Seminar Series, including Washington, DC and Israel educational experiences
National webinar series on antisemitism, Israel, and campus free expression
Campus speaker series
Incident response support
Resources
ICCI has many resources available for college and university administrators to support them in their work to create a healthier environment for members of the campus Jewish community.

Partnerships
AEN works collaboratively with national and local partner organizations, including Hillel, ADL, JCRC, AJC, and others, to share best practices, policy recommendations, and training materials in support of our common goals.
One of the projects that AEN is supporting as a part of ICCI is the Antisemitism Education Initiative, a pilot program at the University of California, Berkeley, which brings together multiple campus stakeholders to inform about, discuss, and develop the resources to respond to antisemitism. Available through ICCI is an 11-minute educational film Antisemitism in Our Midst: Past and Present. AEN created educational resources to accompany the film, which are available above.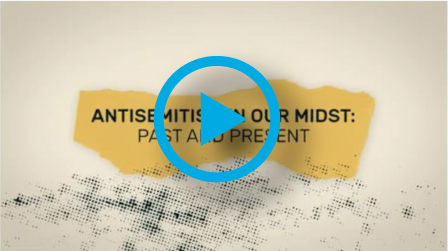 Webinar: Raising Awareness about Antisemitism on Campus — A New Educational Tool
Dr. Ethan Katz and Rabbi Adam Naftalin-Kelman share how they are using "Antisemitism in Our Midst: Past and Present" as part of UC Berkeley's Antisemitism Education Initiative to change the conversation about antisemitism on their campus and beyond.
Press

To learn about additional resources and how to bring antisemitism awareness education to your campus, contact us here.